"Refurbished engine helps stretch BHCFD's money" Mohave Valley Daily News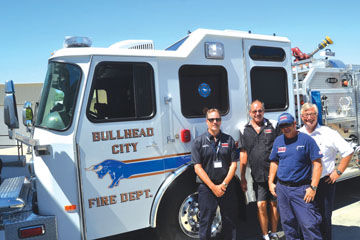 "Use it up, wear it out, make it do, or do without."
— Boyd K. Packer
BULLHEAD CITY — The Bullhead City Fire Department simply does not have the latter option, when it comes to fire engines.
But with the cost of a new engine at about $600,000 and the fund from which such apparatus would be paid for looking meager, department leaders had to search for another way to meet that need.
Their solution recently returned to town.
The BHCFD had a pumper truck, Engine 711, refurbished by Firetrucks Unlimited of Henderson, Nev.
For $277,000, the department got back essentially a new truck. The fire pump was replaced, the drivetrain components were rebuilt by their manufacturers, Detroit Diesel (engine) and Allison Transmission.
The interior cabin was upgraded and lighting on the truck replaced with LEDs.
Assistant Chief Scott Neal said that the engine has a new lease on life. A new fire engine typically has a life expectancy of 15 years as a front-line apparatus followed by five years as a reserve unit. The project also included paint, exterior and other upgrades.
Neal said the 2001 E-One pumper is now prepared to provide 10 years of front-line service and five reserve years.
That's right: two-thirds the life cycle for less than half the cost of a new engine.
"We're very pleased with the result, from a quality standpoint," Neal said.
Besides the lower price, he said, the refurbishment project offers other advantages. For example, the department dropped the engine off at Firetrucks Unlimited in January and has already taken delivery of the refurbished unit.
Neal said that a new engine would be delivered about a year after the vendor received the specs.
There's also no learning curve.
"This apparatus is already a known entity to our people," he said. "When you buy a new apparatus, you have to figure everything out from scratch."
Neal also cited Firetrucks Unlimited's relative proximity and its status as a family-owned business make it pleasant to work with the company.
There are some final touches before the engine can enter service. BHCFD staff will install some on-board technology, for instance.
Engine 711, expected to be in service in about 10 days, will complement a ladder truck at Fire Station No. 1. Neal said the pumper is more efficient and has a larger water rank, plus is more maneuverable on narrow streets.
The ladder truck is expected to be sent for refurbishment next, Neal said, but extending the lives of apparatus isn't a permanent fix.
"You can't refurbish forever," he said. "At some point, you have to buy new. But this extends our tax dollars farther."