AMBULANCE REMOUNTS
Welcome to Firetrucks Unlimited's Ambulance Remount Service! We understand the critical role that ambulances play in delivering timely and life-saving medical care. Our dedicated team of experts specializes in remounting ambulances, breathing new life into aging vehicles, and transforming them into modern, reliable, and efficient emergency medical units. With our commitment to quality craftsmanship and attention to detail, we aim to be your trusted partner in enhancing your ambulance fleet.
Why Choose Ambulance Remount Services from Firetrucks Unlimited?
Expert Remounting Solutions: Our skilled technicians have extensive experience in ambulance remounting. They combine their technical expertise with a deep understanding of the unique requirements of emergency medical services. From upgrading the interior layout to installing advanced medical equipment and enhancing patient care features, we offer comprehensive remounting solutions tailored to your specific needs.
Cost-Effective Alternative: Remounting an existing ambulance is a cost-effective alternative to purchasing a new vehicle. Our remount services allow you to extend the life of your current ambulance while benefitting from modern upgrades and enhanced functionality. This can result in significant cost savings for your organization, allowing you to allocate resources to other critical areas.
Customization and Flexibility: We understand that each EMS organization has unique requirements. Our team will work closely with you to understand your specific needs and tailor the remounting process accordingly. Whether it's adjusting the interior layout, integrating specialized medical equipment, or enhancing accessibility features, we ensure that the remounted ambulance is perfectly suited to your operational preferences.
Quality Craftsmanship and Durability: Our remounting process adheres to the highest standards of craftsmanship and durability. We utilize top-quality materials, components, and equipment during the remounting process to ensure long-lasting performance and reliability. The end result is an ambulance that meets or exceeds industry standards and withstands the demands of emergency medical operations.
Seamless Transition and Minimal Downtime: We understand that your ambulance fleet needs to be operational with minimal disruption. Our efficient remounting process, combined with meticulous planning and project management, ensures a seamless transition from the old to the remounted ambulance. We strive to minimize downtime, allowing you to continue providing uninterrupted medical services to your community.
Benefits of Ambulance Remounting:
Updated Technology: Remounting your ambulance provides an opportunity to upgrade to the latest medical technologies, communication systems, and patient care features. This ensures that your ambulance is equipped with state-of-the-art equipment to deliver optimal care in emergency situations.
Enhanced Safety and Ergonomics: Ambulance remounting allows for the implementation of improved safety features, ergonomic designs, and accessibility enhancements. This enables your medical staff to work more efficiently, ensures the comfort and well-being of patients, and promotes a safer working environment for everyone.
Extended Lifespan: By remounting your ambulance, you can extend its operational life and maximize your investment. The refurbishment process addresses structural issues, updates electrical systems, and replaces worn-out components, ensuring that your ambulance remains operational for years to come.
Contact Us for Ambulance Remount Services
At Firetrucks Unlimited, we are committed to enhancing your emergency medical services with our ambulance remount services. Trust in our expertise, dedication to quality, and customer satisfaction to transform your aging ambulance into a modern and efficient lifesaving unit. Contact us today to discuss your remounting needs, request a consultation, or learn more about our ambulance remounting process. Together, we can elevate the capabilities of your ambulance fleet and make a difference in the lives of those you serve.
AMBULANCE REMOUNT PACKAGE
To help you get started, we offer an ambulance remount package that covers all the main components.
Our sales engineers are ready to customize your remount to meet your specific needs.
CHASSIS OPTIONS
We offer a wide selection of chassis for your Type l, Type lll or Medium Duty ambulance remount. Options include Ford E350, F450, F550, RAM 3500, 4500, 5500, Chevy CK3500, G3500, International, and Freightliner chassis.
AMBULANCE REMOUNT PROCESS
1. Project Customization
We meet with your team to determine your needs and develop a scope of work.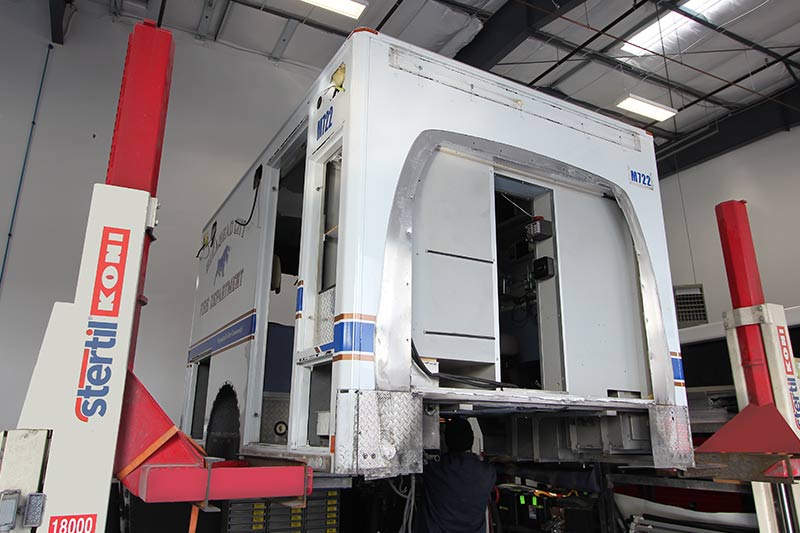 2. Inspect & Dismount
Once your project starts, we perform a thorough inspection before dismounting.
3. Paint & Body
We will paint your box and chassis at our 25,000 sq. ft. paint and body facility.
4. Box Upgrades
The interior of your box will be refurbished and upgraded including new flooring, seats, lighting and cot mounting.
5. Electronics Upgrades
We install a new electrical system, exterior lighting, siren speakers, and back up cameras.
6. Final Inspection
Your team visits our facility to inspect the finished ambulance remount.
FEATURED AMBULANCE REMOUNTS
COOPERATIVE PURCHASING
Firetrucks Unlimited is proud to earn a Sourcewell contract for Ambulance Remounts and Used Ambulances for Sale. Sourcewell is a government agency that makes the buying process easier and more affordable by combining the purchasing power of many agencies into a single cooperative group. Contracts are competitively solicited to satisfy the public bidding process for its education, government, and nonprofit participating agencies. Learn more below about the Firetrucks Unlimited contract and how utilizing the power of Sourcewell will make purchasing simple and save you 5%.