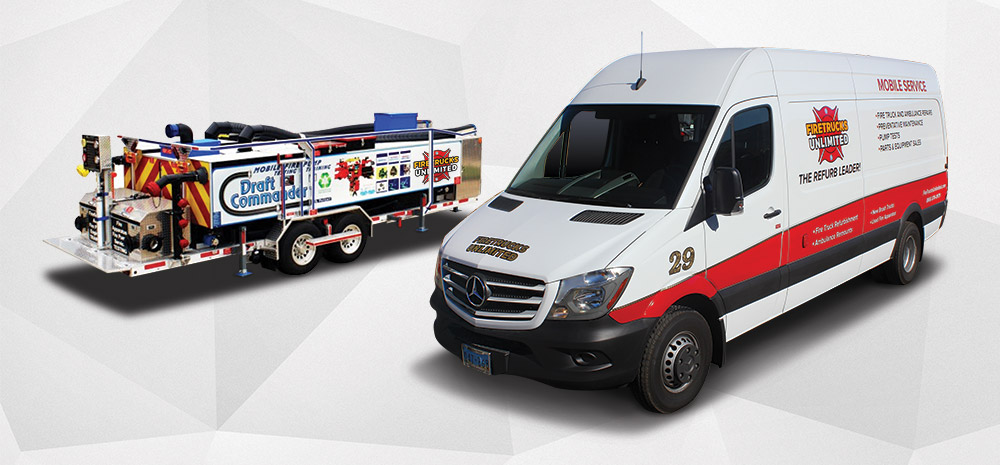 SCHEDULE AN APPOINTMENT
IN HOUSE AND MOBILE FIRE TRUCK SERVICE & REPAIR
Our team of expert EVTs are ready to help with all your fire truck repair and service needs. We offer repair service, maintenance contracts, and accident repair for every make and model of fire apparatus. No job is too big or small for our EVT certified technicians, we are ready to serve you today!
We go the extra mile to meet your needs. We offer service in house and at your fire station, whichever is more convenient for you. Our fully equipped mobile fleet will visit your department to perform repairs and PM's. We will also perform a 150 point inspection and go over the results with you. If issues are identified, the service tech will provide parts & labor costs to get things fixed. Our EVTs will quickly assess and solve any problems with your apparatus to keep it in service and operating at peak performance.
Our Capabilities Include:
General Repairs
Fire Truck Accident Repair
Chassis, Engine & Driveline Service
Hydraulic Troubleshooting & Repair
Electrical Systems Troubleshooting & Repair
Fire Pump PM & Repairs
Aerial PM & Repairs
Hydraulic & Diesel Generator Service
Pump Testing and Certification
150 Point Inspection Covers:
Engine
Chassis
Electrical System
Fire Pump and Controls
Aerial Device
Exterior Apparatus
Interior Cab
Generator
MAINTENANCE CONTRACTS
Save money on your PMs through long term maintenance contracts. Our EVTs will visit your facility on a regular schedule to keep your fleet running in top condition.
Each PM includes:
Oil and Filters
Auto Lube and Grease
AMBULANCE REPAIR
Our service capabilities extend beyond fire apparatus. We specialize in ambulance repairs and remounts and offer in house and mobile service on all makes and models.
Our Capabilities Include:
Electrical and Alternator Service
Light Repairs and Upgrades
Body and Hardware
Accident Repair
HVAC Repair
Inverter Repairs and Installs
0/2 System Repairs and Upgrades
Annual Emergency Vehicle Safety Inspections
Preventative Maintenance
Warranty Service